Reltec Inventor – Ph.D. Noboru Horiguchi
Born in 1936, at Hokkaido Japan. After graduating from Akamon Academy of Judo Therapy, he obtained the license as a licensed masseur.
After which, he studied physiotheraphy at the Department of Physical Therapy, Tohoku University Hospital and acquired his license in exercise therapy skills training. In addition, he completed a course at the University of the East for bachelor's science in medicine degree, and received Ph.D. after having studied at the university.
Ph.D. Horiguchi continuously researched on Negative ion medicine (Electron-reducing medicine) for over 35 years and has published numerous clinical data. He has also been conducting lectures and conference presentations as the 'Leading Expert in Negative Ions'. In addition, while researching on the mechanism and effects of reduction ions on the human body, Ph.D. Horiguchi also developed the electrical potential treatment devices for medical use which contributed to the health maintenance of many people.
Ph.D. Noboru Horiguchi is the founder of RELTEC Medical Devices Corporation (previous company name: SERUMI Medical Instruments Co., Ltd.) He developed 5 treatment devices for medical use, 1 treatment devices for household use, and 5 air purifiers in the company. In addition, he is one of the inventors of 23 patents owned by the company.
Awards Received
2002 Feb Received 'Social and Cultural Achievement Award' from Japan Culture Promotion Association in recognition of his many years of research on negative ion medicine.
2002 Mar Awarded the "Best International Product Certification Grand Prize' by Council for World Academic Culture.
2002 Jul Awarded 'Don Pedro I Congressional Medal of Honour' from 'Federal Republic of Brazil International Peace Medal Sovereignty Transfer Authority'.
2002 Aug Awarded 'Lincoln Peace Medal' by 'The United States Lincoln Memorial Peace Foundation'.
2003 Jan Received 'International Cultural Achievement Award' from the Russian Government.
2003 Dec Received 'World's Highest Medicine Award' from 'Japan Culture Promotion Association'.
2005 Dec Received 'Presidential Champions Gold Award' from George W. Bush by U.S. Department of Health and Human Services.
Published Books
– "Restoration of health by negative ion" (Gendai-Shorin)
– "Negative ion saves the times of life crisis" (Kenyu-Kan)
– "Negative ion changes modern medicine" (Kenyu-Kan)
– "The base of nature and life" (Kenyu-Kan)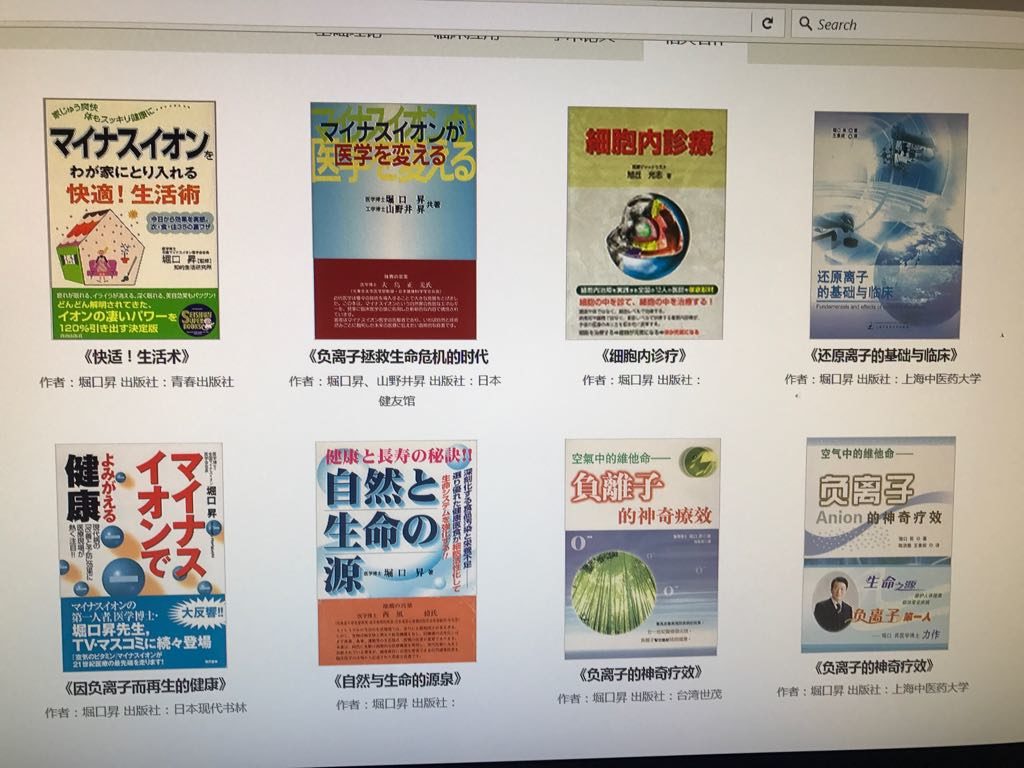 Academic Papers
Biochemic action and suppressive effect of active oxygen by negative ion (Journal of The National Society of Minus-Ion Therapeutic Medicine Vol.1 No.2, 1997)
Action mechanism for human body of air ion (Journal of The National Society of Minus-Ion Therapeutic Medicine Vol.3 No.1, 1999)
Urinary 8OHdG (8-Hydroxydeoxguanosine) essay about active oxygen removal effect in human body by negative ion (Journal of The National Society of Minus-Ion Therapeutic Medicine Vol.4 No.1, 2000)
Relation of negative charge for red blood cell membrane to blood pH, and effect of negative ion to red blood cell membrane (Journal of The National Society of Minus-Ion Therapeutic Medicine Vol.4 No.1, 2000)
Survival time prolongation of nude mouse by negative ion (Journal of The National Society of Minus-Ion Therapeutic Medicine Vol.5 No.1, 2002)
Lowered oxidation-reduction potential (ORP) by negative ion (Journal of The National Society Minus-Ion Therapeutic Medicine Vol.5 No.1 2002)
Consideration of action mechanism that human body takes in negative ion by artificial skin (Journal of Reduction-Ion Therapeutic Medicine Vol.7 No.1, 2004)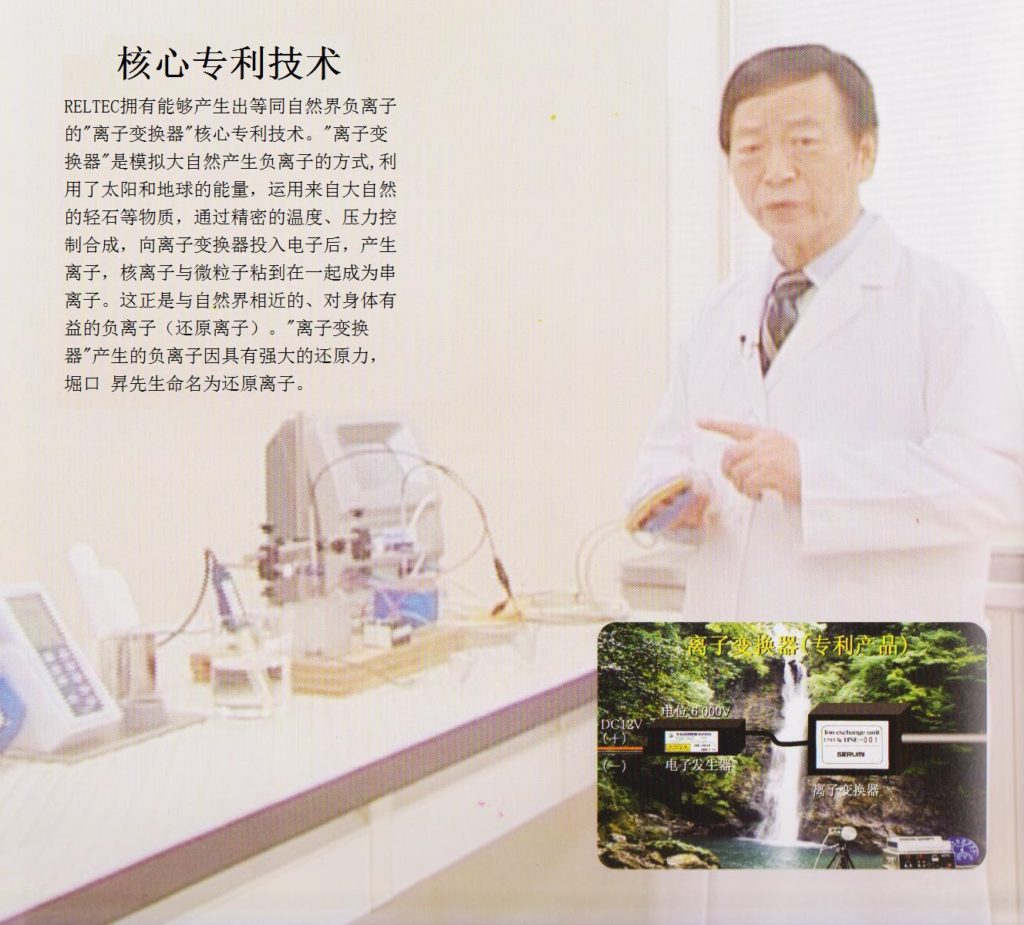 Informative Video References:

For References:
http://www.reltec.co.jp/product/e1j-images/e1j.html
http://www.reltec.co.jp/ig-e1j.html
http://www.reltec.co.jp/index.html
http://www.reltec.co.jp/news.html – BEWARE OF COUNTERFEIT PRODUCT
Helpful Links:
http://www.reltec.co.jp/